KIBS secondary school students enjoy a high teacher to student ratio. We have a strong technology focus: All of our teachers are apple-trained and, starting with the new term in 2018, every student has an iPad. Approximately 50% of subjects are conducted in English and our students graduate with extraordinary linguistic skills as part of a well-rounded education.
---
Our concept
Our Mission Statement is to offer young people an international bilingual secondary education which enables them to pursue professional careers, not only in Germany and English speaking countries but anywhere in the world.
An international bilingual education is not just about studying in two languages, it is about celebrating and embracing differences; different cultures, different traditions, different faiths and even different foods. Our ethos is to ensure that our young people are exposed to the widest possible range of cultures and traditions, so that they feel comfortable, empowered and have a high level of self-confidence to successfully and independently take their place in an increasingly "global village".
Teaching Plan
In the case of our secondary school we are talking about a bilingual full-day school. All classes are taught in English or German with the exception of the Foreign Languages (taught in the target language). Our internationally inspired bilingual concept is not only for learning the English language, but also for understanding each other and dealing with foreign cultures.
For new KIBS students who do not have any bilingual background or do not know the English language yet, we offer immersion lessons, where the students are able to improve their English. Beyond that, several different after-school activities are scheduled weekly.
Education and insight to artistic and musical areas have a very important input to every student's personal development; therefore it is very important for KIBS to establish additional classes or tutorials in these areas.
It is a very important part of the KIBS ethos that each student is able to develop to the fullfil their own strengths and talents. Students can also be divided into smaller specialist groups within their own class. Classes have a maximum of 22 students. This enables us to better support and develop our students' individual learning goals and maximise their opportunities for progression.
Degrees
Students of the KIBS high school normally graduate with the Abitur. Of course we also offer the Secondary School Diploma (Realschulabschluss and erweiterter Realschulabschluss) after the 10th grade.
KIBS secondary school is organised in a similar way to a typical German state school and uses the German school system. However, because of our bilingual education we also have an international orientation.
Comparison between the german Abitur
and the International Baccalaureate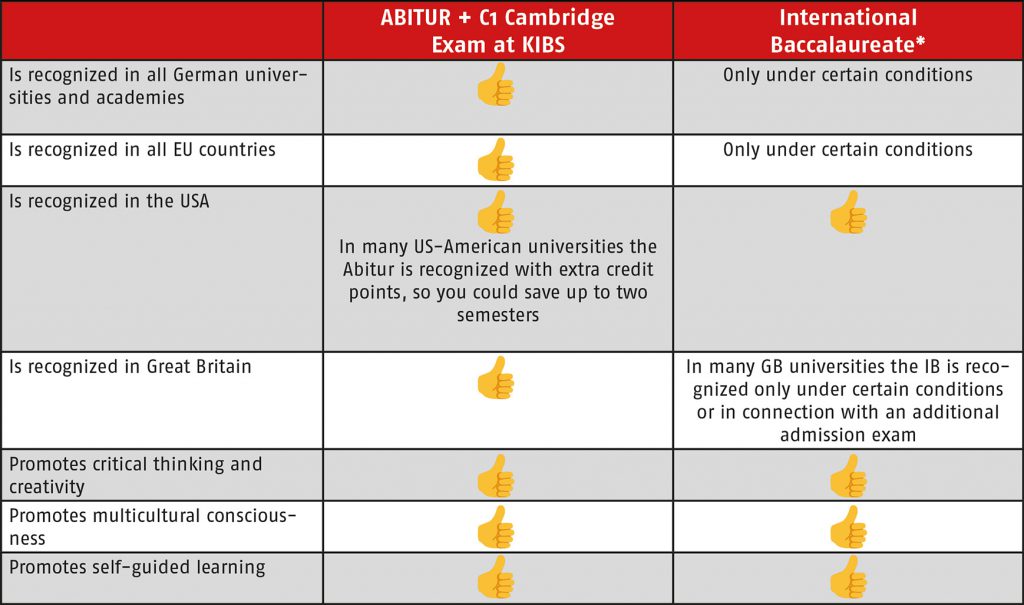 *you can find more info on the IB here:
https://www.daad.de/de/studieren-und-forschen-in-deutschland/studiumplanen/anerkennung-ibdiploma/
*most schools charge an extra fee for the IB
Teaching staff
We want the teenagers at our secondary school to be able to develop their own ideas and to understand how to put them into effect successfully. Purposefulness, a sense of responsibility and patience are as important as are curiosity, courage, and self-confidence.
Kämmer International Bilingual School has an experienced and highly motivated teaching staff with teachers from Germany, England, the USA, Canada, and other countries where English is the native language. All our teachers are English speakers, in most cases native or near-native English speakers. Our teachers make use of the latest teaching and learning methodology and technology including interactive white boards and a mobile computer suite. They work with globally recognised educational standards and combine the best of international and national pedagogical approaches.
School hours
KIBS is a full-day secondary school.
KIBS considers full-day school to be a very important component for the successful development of children's education. Longer classes allow individual learning, breaks and a collective lunch break. Each day finishes with a self-study time where children can learn how to manage independent study. At the end of the school day, there are opportunities for extra classes and tutorials.
Core hours: 8:30am – 4:00pm
Vacation time:
KIBS offers day care and vacation activities, which can be attended by children from all three schools. These activities are differentiated by age. Kindergarten children have their own separate group.
We here at KIBS hold our students to very high standards for Working Behaviour and Social attitude. Please find here our marking criteria which is made up from the Niedersachsen standards and some further standards that we believe to be important in school life.