Communication beyond language. Creativity beyond the classroom. We are learning for the future and technology is our playground.
In today's world, technological progress has become indispensable. That is why we have set ourselves the goal of using innovative digital teaching and learning methods that enrich lessons in all grades. In the kindergarten, we work with iPad trolleys, which our teachers use specifically. In the first and second grades, we work with a total of three iPad cases, which are used in the classes as needed. From the third grade onwards, our students work with leased iPads that accompany them in their learning both at school and at home.
You can find more information in the following menu:
Media concept
Every student gets their own learning plan? Personalised learning? Can the digitalised world do all that in the future? To begin with, we at KIBS have not yet reached our goal – but we have already made great strides in this direction. We know: We want to help shape the positive changes in the digital world for the benefit of our students. And together we also want to face the challenges of digitalisation by incorporating productive use of digital media into our lessons on the one hand, but at the same time teaching critical analysis and reflection of our own media consumption. This is why the continuous development of our own media concept is so important for us. The versatility of digital media can also help us achieve our pedagogical ideals more quickly. Everyone has their own learning style, their own learning speed and their highly personalised interests. We want to accommodate this heterogeneity of our student body through a high degree of individualisation of teaching, self-directed and location-independent learning. This can be achieved, for example, by extending the classical learning location
"classroom" by permanently accesible learning videos or online courses, which enable an individual rhythm of the tasks to be worked on for our pupils.
Here you will find an overview of important elements of our concept:
Smart School
Coding
Languages play a special role at KIBS. Technology also has a language, which is spoken all over the world: Code. We therefore believe that programming should be a basic skill. Because those who learn programming also practice solving problems creatively, thinking critically, collaborating with others and understanding the technology in their own hands.
We are one of the few schools in Germany that teaches coding from grade one. We have combined various materials from different international curricula with our unique KIBS Coding Curriculum. In this way, we start programming without any digital devices at all. What is a "command" and what is a "loop"? Can I maybe even programme my classmate? We also find out that we ourselves often use many algorithms in our own everyday lives.
Afterwards, visual learning apps like CodeSpark and Tynker help our students learn the mindset of a programmer and immediately implement it in an action-oriented way with our Sphero Mini Robots. To ensure that all teachers can use the technology in their own lessons, our Head of Technology trains our teaching staff within the school.
In the third and fourth grades, all students deepen their skills with Apple's Everyone Can Code curriculum across topics and subjects. They work together in teams, solve real-world problems and "debug" their classmates' code. They also programme robots like the LEGO WeDo2.0 and learn how to develop a user interface.
In the grammar school, the skills learned in primary school are seamlessly continued, but new pupils also gain access to programming in a playful way. Programming concepts and creative approaches to solutions are tested and controversially discussed in the compulsory subject of media studies. It quickly becomes apparent that programming is a way of thinking that can also help in other subjects. The knowledge and skills of our pupils are developed so much in the course of the year that that they will eventually be able to develop their own apps in the upper school and learn another world language along the way.
PEAK and KILP
PEAK (Practise, Extend, Apply, Know)
Independent learning is a focus of our work in the primary and secondary school to prepare our students for the future. In the primary school, our pupils have PEAK every day from 8:30 – 9:00. During this time, they work independently on tasks that either consolidate or deepen their knowledge in various subjects. In the Gymnasium, our students work independently in our KILP programme and learn to set goals for themselves in order to achieve the learning content in the KILP subjects.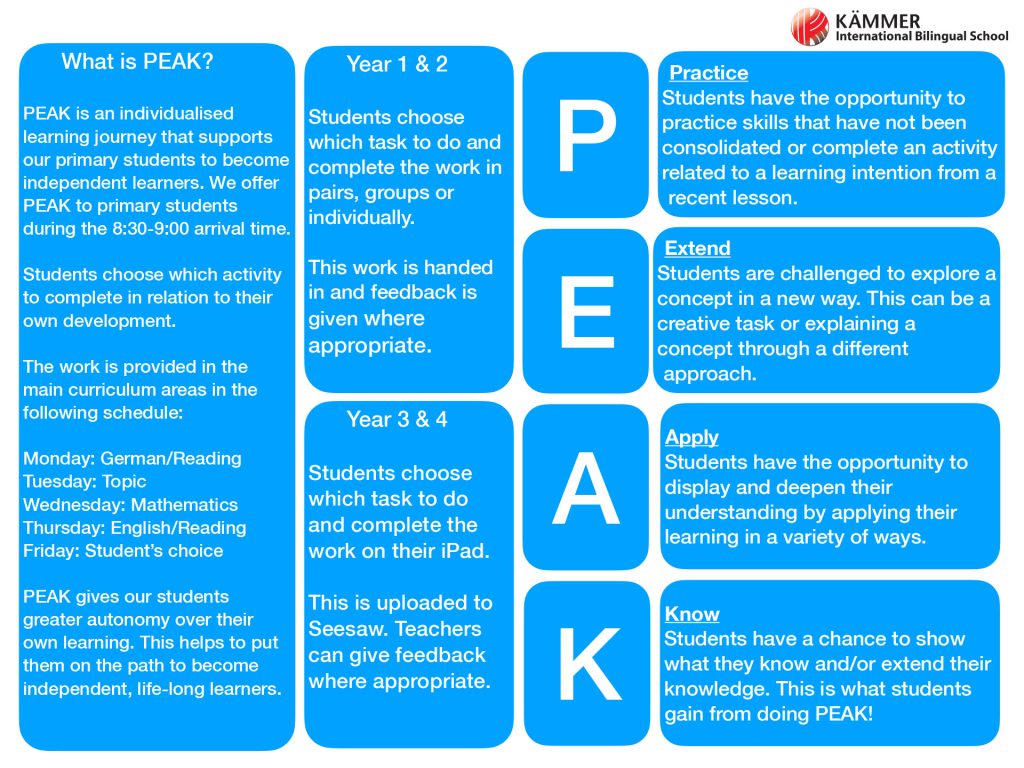 KILP (KIBS Individual Learning Programme)
All students in grades five through eight take charge of their own learning in German, English, Spanish, and Math during two KILP hours per day for four days.
Which tasks they complete on which day of the week is the learners' own individual responsibility. The tasks to be completed in grades 9 and 10 are also offered independently of time and place with the help of the Schoolwork program. Through KILP, we can cater even more to the individual needs of your children and at the same time train them to become independent learners.
The content to be worked on in the KILP lessons is in the accompanying learning plans. These are made available to students digitally. The tasks have a preparatory or in-depth character. With the help of the learning plan, students can also see which topics are additionally covered in class.
They can also more quickly understand their own strengths and weaknesses and better reflect on their own learning behavior. This gives the students the opportunity to act in time. The free choice of subjects in the KILP lessons makes it easier to choose an individual learning path. Thus, those who need further support or challenge in mathematics, for example, can work closely with the subject teacher several times a week.
In order to better analyze their own learning behavior, the students set themselves individual learning goals at the beginning of each learning phase, which are to be achieved in the coming weeks. At the end of each learning phase, students reflect on their own work behavior.